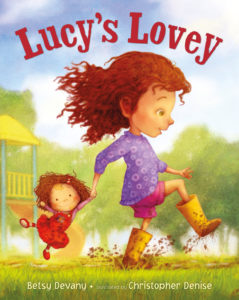 Author: Betsy DevanyIllustrator: Christopher Denise
Published by Henry Holt & Co, Christy Ottaviano Books
ISBN #9781627791472
Ages 3-7
ABOUT THE BOOK:
From my publisher: Lucy's favorite lovey, Smelly Baby, is her most loyal companion. They are simply inseparable. Smelly Baby may be pretty rag-tag and, well, smelly, but her smell is very much a part of why Lucy loves her so much. Then disaster strikes as Smelly Baby accidentally flies out the car window and gets LOST! What will Lucy do without Smelly Baby in her life?
INSPIRATION: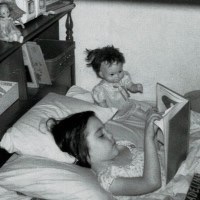 Lucy's Lovey was inspired by many kids and their loveys, including 1) My niece, Sofi, who named all of her dollies and stuffies, and spent hours teaching them school. 2) My childhood lovey, Little Bear, who smelled of grape jelly and apple juice, and who flew out of a cab window when I was four years old. 3) The multitude of loveys I've met over the years while working part-time at an old-fashioned Mystic, CT toy store. The loveys I've been privileged to meet at the Toy Soldier  have included bedraggled dollies, barely recognizable stuffies, tattered blankies, overly-stickered and drawn on rubber duckies, even fragments of favorite clothing, such as a sleeve from a baby shirt that now sports button eyes and an embroidered mouth.
I absolutely adore talking with kids and hearing their stories, especially when kids enter the toy store grasping a lovey that looks like it has had numerous visits to the Lovey Hospital. I see a stuffed kitty cradled in a child's arm, a kitty with mismatched replacement eyes, completely threadbare, wearing a handmade necklace around its neck, and I stop what I'm doing to meet this child and their lovey. I marvel at children's resilience, their fierce and undying love for The One, despite a lovey's possibly dilapidated condition. This universal bond between a child and their (possibly quite smelly) lovey always tugs at my heart.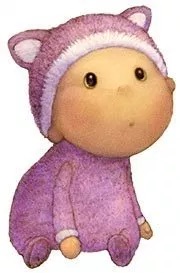 LUCY'S LOVEY is illustrated by Christopher Denise. Visit Christopher at www.christopherdenise.com.
Download the Teacher's Guide for Lucy's Lovey
PRAISE FOR THE BOOK:
"Denise's vignette and full-page illustrations portray the magical relationship between a young girl and her lovey, and the facial expressions, especially Ivy's, are spot-on. There is no child who won't empathize with Lucy and cheer for her reunion with Smelly Baby."-Kirkus Reviews
"Suited for one-on-one sharing. . . The pictures are delightful . . . Readers will want to pore over the artwork and will enjoy this domestic drama."-School Library Journal
SIGNED COPIES:
Signed copies are always available at Toy Soldier in Mystic, CT. A child's name can be added and shipping is available. Visit the well-known toy store in Olde Mistick Village or call 860 536-1554.
WANT TO SHARE YOUR CHILDHOOD LOVEY STORY?
Thank you to everyone who has shared and continues to share their lovey stories with me. If you'd like to have your lovey featured on my blog, please be in touch. I'd love to hear from you! #WhosYourLovey