Baking Day at Grandma's is a picture book bundled in love, warmth, and thoughtfulness. At its core, it speaks to a family (grandma and her grand cubs) spending quality time together. Not only is Anika Denise's text a pitch-perfect rhyme—and one that makes you want to clap along (and bake a cake) with the charming bears—Christopher Denise's illustrations are enchanting. The cover, with light streaming in through the kitchen window, immediately pulls you into the scene. You want to join the bear family, stir batter, sip hot cocoa on a snowy day, and dance to an old-fashioned record player while chocolate cake bakes, all in the company of a loving and adoring grandma bear, who happens to be modeled after Anika's grandmother Rose. This is the highlight for me, and why Baking Day at Grandma's is quickly becoming a favorite with my grandkids. The book even includes a recipe for Grandma Rose's chocolate cake!
I get emotional over heartfelt picture books, and Baking Day at Grandma's is one of those books. It's a perfect text-to-illustration match. The singsong rhythm of Anika's words, coupled with bears that take on humanlike qualities in their movement and expressions, make this a picture book winner. A true talent of NYT's bestselling illustrator Christopher Denise is how he brings woodland animals to life. They almost feel real. Clearly, these bears adore each other, and the artwork of their hellos and goodbyes is especially heartwarming. To learn more about how Baking Day at Grandma's evolved, watch this endearing book trailer. https://www.youtube.com/watch?v=aZTRFELt9-0 Anika also offers a little Activity Kit on her website. Download for free here: http://www.anikadenise.com/free-goodies/
The Providence Journal recently featured Anika and Christopher in a lovely must-read article.  Learn more about this talented duo by clicking on the link. http://www.providencejournal.com/writers/gail-ciampa/20141001-charming-book-by-barrington-couple-has-its-heart-in-the-kitchen.ece
As someone who works at an old-fashioned toy store, I see a lot of grandparents. Too often, they arrive at Mystic's Toy Soldier clutching detailed Christmas or Hanukkah lists, the I-only-want-this-specific-electronic-toy/game kind of list. I see the frustration and stress that comes along with this. Ultimately, we have lost the true meaning of holidays. Long lists of electronic games only encourage further isolation, and that is not what kids need. They need one-on-one attention. They need the TV off, electronic devices put away in drawers, and they need present adults without a cell phone at the ready. Children need to bake cakes and dance in the kitchen with their grandmas, or with their mothers, their fathers, and their grandfathers. With the support and encouragement of loved ones, children also need to know they can make a difference in this world by doing things for others. In Baking Day at Grandma's, the bear cubs wrap up individual pieces of cake to give away as gifts. They do get to lick batter off the wooden spoon, which is always been my favorite part of cake baking.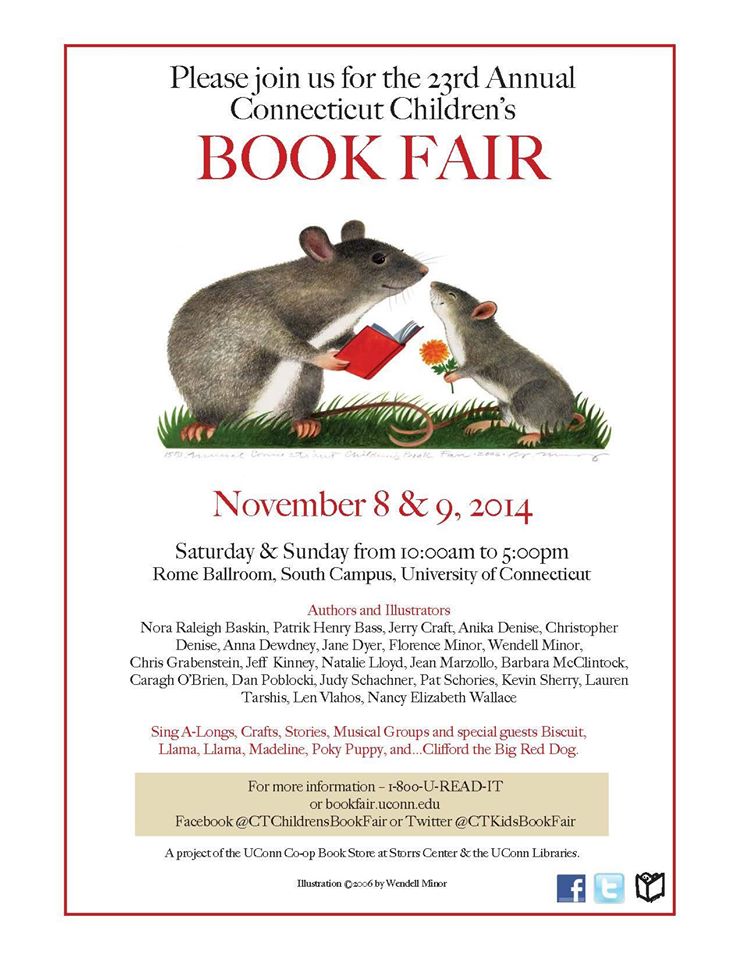 Anika and Christopher Denise are some of the nicest people I know. And this weekend, at the Connecticut Children's Book Fair, you can meet both of them! In addition to giving a joint presentation, Anika and Chris will also be signing copies of their collaborated books, which include Pigs Love Potatoes, and Bella and Stella Come Home. I could go on and on about why I love these books, too. In addition, Christopher has illustrated a multitude of books by other authors, including Rosemary Wells, and Brian Jacques.
If you are unable to attend this weekend's Connecticut Book Fair, you can still get a signed copy by contacting Barrington Books, a fabulous independent bookstore in the town where Anika and Christopher live.
Want to win a signed copy of Baking Day at Grandma's? To enter the drawing, please comment on this post and share your favorite memory of quality time with either your grandchildren or your grandmother. The drawing will be held on Tuesday, November 11. In addition to a signed copy of Baking Day at Grandma's, the winner will also receive eight baking day gift tags!